Turbine Pumps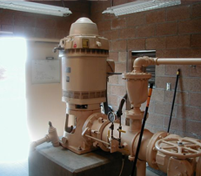 J&J Pumps Inc. can design a turbine pump for most applications.
Featured below are a few of the submersible and non submersible turbine pumps we carry. We can size a system for your application and ship you the parts you need, ranging from just a rebuild kit for an existing pump to an entire turbine pump system including pump, motor, panel/drive, pipe, wire, check valves/valves, well heads, etc. If you don't see the product you need listed below please contact us because chances are we have it, or we can get it for you.
Vertical Lineshaft and Submersible Turbines with bowl diameters from 4" through 30" with capacities to 20,000 gpm. Pumps can be designed for deep well or short set applications in various materials of construction.
Short Set Lineshaft Turbine Pumps:
Various material of construction. Threaded or flanged column. Above or below ground discharge. Flow up to 20,000 GPM and 500 TDH. Alloy construction are available.
Features and Benefits:
Cast-iron bronze fitted or alloy construction bowl assembly 5" to 30" sizes, Open lineshaft with threaded or flanged column pipe,Enclosed or open impellers,Packed stuffing boa or mechanical seal,Above or below ground discharge with VHS or HSS motor.
Submersible Turbine Pumps
Cast-iron bronze fitted bowl assembly with submersible motor. Flow up to 8000 GPM and 1000 ft TDH. Alloy construction are available.
5" and Larger CentriPro Submersible Motors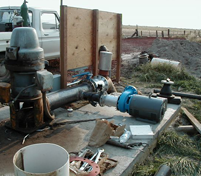 The 6 inch canned design motor features a replaceable plug-in motor lead, moisture resistant insulation and a specially formulated patented resin that protects the motor against thermal fluctuation and internal stress.
The 8 to 10 inch rewindable water-tight motor has a coil conductor insulation material that is specially developed denatured polypropylene, which offers excellent leak-resistant characteristics. Three barriers are applied to the copper conductors to provide complete insulation against the motor's cooling fluid. This design is the result of extensive research and is of superior quality. It insures that CentriPro motors will have an extremely long service life.
Wolf Submersible and Vertical Turbines:
Wolf Turbine pump products are manufactured in the U.S.A | The pumps can be custom ordered in many different colors with flows ranging from 75-5,000GPM 5" -24" in diameter. **** Other capacities and sizes available