Centrifugal Pumps
Water & Waste Water Treatment & Transfer, Mining, Industry Applications, Agriculture, Turf Irrigation, Truck Mount, Power Generation, Chemical Processing, Etc.
Although almost all pumps use centrifugal force to move fluid, the industry lingo for a non-submersible single or multi-stage pump is 'centrifugal pump'. At J&J Pumps, Inc we carry a wide line of centrifugal pumps from top brands and styles to meet your needs. We also sell almost any major accessory required for your system such as: motors, panels, variable speed drives, PLC's, valves, priming pumps, self cleaning suction screens, automatic filters, more.
We can rebuild or sell parts for most makes and models including but not limited to:
Berkeley, Paco, Aurora, Goulds, Cornell, Ruhrpumpen, Western, Franklin, Barnes, Burks, Crane- Deming, ITT Jabsco, F.E. Myers, Peerless, Fairbanks Morse, Red Jacket, ABS, Bell & Gossett, Taco, Gorman Rupp
If you need parts, equipment, service, troubleshooting or upgrade advice give us a call or fill out our quote request form. We can locate an exact replacement, cross reference to a different brand or size the system from scratch.
End-Suction Centrifugal Pumps
Cast Iron and Bronze construction in both self priming and standard configurations. Close coupled, frame mounted and SAE engine drive options available. Flows up to 5,000 GPM and 400 feet TDH. Designed to handle a wide range of water and mild chemical applications.
Self-Priming Centrifugal Pumps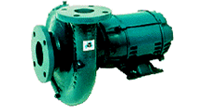 These pumps are specially designed for Irrigation, Water Transfer, Lawn Sprinkling and Air Conditioning Systems. Capacities range to 145 GPM with heads up tp 135 feet. NEMA standard open drip proof motors, 60 Hz, 3500 RPM.
Multi-Stage Pumps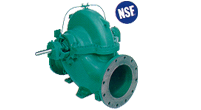 Horizontal and vertical configuration high pressure pumps for water boost applications in both surface and tank mount environments. Stainless steel or cast iron construction with variable suction and discharge orientation. Flows to 350 GPM and 800 feet TDH. Designed to handle a wide range of filtration, pressure boost, wash system and boiler feed applications.
Specialty Pumps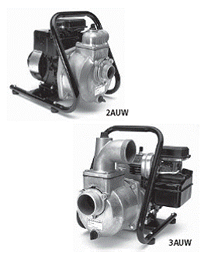 Available in 2 Sizes
Briggs and Stratton "Power Built" Engine
Die Cast Aluminum Casing, Engine Housing and Volute
Durable Cast Iron Impeller
Fabricated Carry Handle Base, Rugged and Convenient.
Injection Molded Hose Connectors and Suction Strainer
Lightweight, Portable and Compact
Multi-Position Discharge Connection
Trouble Free Mechanical Seal