Booster Pumps
Booster pumps are designed to increase water pressure and also even out the pressure where the flow of water varies. Usually booster pumps are found in multiple dwelling units, high-rise buildings and irrigation systems that are far from the original water pump. Booster pumps install between the supply pipe and the main building. Sometimes a home or building will be constructed at the same level or higher than the municipality's water storage tanks. Usually a booster pump can be used to boost the city water pressure to provide adequate pressure.
To better understand the necessity of a booster pump, it is necessary to understand the basic plumbing needs of a building. The plumbing system in your home or building is a simple closed loop system. Water comes in through supply pipes connected at the main water pump. When you turn on a faucet a vacuum is created which pulls up the water along with air. When you turn off the faucet the system closes. In systems where the main pump is far away from the building, or the supply pipes are long runs to several parts of a building, the flow of water can be inconsistent due to the additional time necessary to pull the water through the supply pipe. This causes undue vacuum pressure on the pipes and joints and also results in more air coming through and inconsistent water pressure. Booster pumps eliminate this undue pressure on the system.
Booster pumps come in single-stage and multiple-stage types. Multiple-stage booster pumps are often used to overcome higher heads or pressure loss. Ease of installation can vary depending on the condition of the pipes and the location of the unit.
At J&J Pumps, Inc. we offer a variety of booster pumps and packages. Simply fill out the quote request on the left side of this page with the type of building you have and the needs of your supply system. We will be happy to quote you a booster pump or package that will serve your needs sufficiently. J&J Pumps. Inc. ships nationwide. We also install booster pump systems in the Redding and surrounding area including Shasta, Tehama, Trinity, Modoc and Siskiyou counties.
Residential & Light Commercial Applications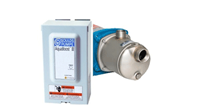 Goulds Aqua Boos II
High-rise buildings, Industrial plants,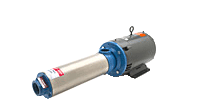 Some ways Bosster Pumps are used in are, High rise buildings, Multipul dwelling buildings, Reverse osmosis systems, High pressure cleaning, Spraying systems, Booster Service
Municipal and rural water distructs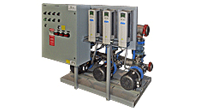 Goulds AquaForce, Capabilities of 1500 GPM and up to 340 PSI!
Agriculture/Irrigation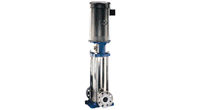 Booster Pumps can often be used in projects like, Booster Units, High Rise Building Water, HVAC, Package Pump stations, Bosster Stations, Water Treatment, Turf Imigration, Golf Courses, Statiums, Green Houses, Sprinkler Systems